Add power of mobility to your business.
Everyone has a smart phone in their back pocket, or a tablet in tow, or both, or more. The cosmic explosion of mobile technology in the digital marketplace increases the demand for fully decked out, multifunctional mobile apps.
If your brand is going to be a contender, having a mobile identity isn't optional. It's true that ultra responsive sites can sometimes render well on mobile devices, but having your own app to market has never-ending advantages for your brand. It's yet another way to promote your brand a way to reach people, beyond your wildest expectations.
Also, there's the loyalty factor: apps, once procured, stay on people's devices, which means they carry your brand around in their pocket all day long. We help beginners become brand names and big players get even bigger. Our diverse team has top-notch skills in design, usability, and programming to work on any mobile application from the ground up and deliver scalable and fluid solutions, no matter the platform.
80%
of web users own a smartphone device.
89%
of a users time spend on media is done through mobile applications, compared to only 11% through the mobile web.
26%
of mobile users begin their purchasing research process on branded mobile applications.
How We Do It
Whether it is a native, hybrid, or web app we can build the right platform for your mobile endeavor.
Our app development team will create the experience you need in order to make an impact on your market.
We test and update your mobile app in order to ensure optimal functionality and reflect your growing business.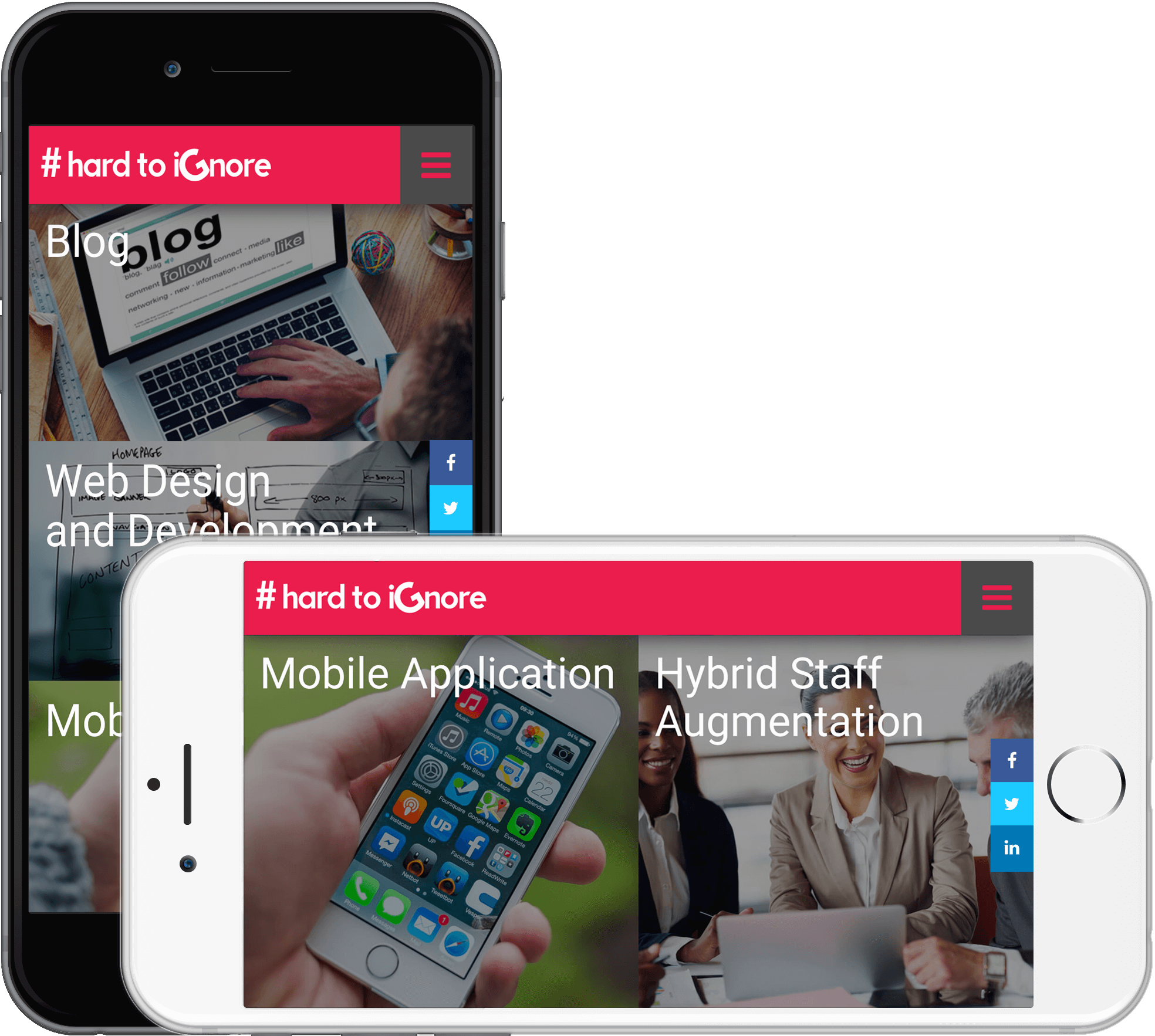 Things to consider when developing a Mobile App
Operating System

Companies are creating new mobile devices on a regular basis, making the options surrounding app development much more vast. We will help you determine which operating system is the right fit for your brand, and build an app to match your expectations. We currently work with the iOS and Android operating systems, and will develop an app that acts as an extension of your company on those platforms. Our developers will work with you to evaluate which operating system best fits the needs of your business, as well as those of your customers. Whether it is iOS, Android, or both, we can develop a mobile app that best serves both your customers and your growing brand.

Navigation Patterns

Whether you want your pages to be rich with detail, or only filled with small amounts of content, our developers can build a navigation that is recognizable to users while still keeping them interested in what your platform has to offer. With familiar menus and tabs, audiences can easily make their way through your mobile app from their very first visit. If audiences find your platform difficult to manage, or they get lost within the pages of the app, there is almost no chance that they will return to it. Our developers strategically manage content so that it is presented to the user in an organized way, allowing them to naturally scroll through your mobile app without becoming overwhelmed. We can help balance the needs of both your business and your customer by organizing the information that you want to include in a format that is easy for your audience to digest. Our mobile app developers can build a unique experience that will be intuitive to new audiences, while still maintaining the interests of those who continue to return to your mobile app over time.

Data Capacity

Something that should not be overlooked when developing your mobile app is how it will affect the battery life of your user's device. You want your platform to be visually appealing and engaging, without utilizing unnecessary bandwidth and draining the life out of your customer's phone or tablet. We will help find the necessary balance between images and animations to include in your mobile app, and make sure it doesn't become overwhelming. You want to stay on brand and keep your platform recognizable to your audience without it becoming something that negatively impacts your image. Our developers are conscious of this and will work with you to create a visually appealing platform that highlights your business, without taking anything away from the usability or experience of the mobile app.

Quality Assurance

In order to keep up with competitors in the market, your mobile app will require regular updates and testing for performance. Our developers manage these platforms to ensure that they are always functioning correctly and efficiently. We value the feedback, ratings, and reviews the app receives from users, as it provides us with a gauge of what the needs of the audience may be. Working out any issues or bugs within the app is an important way to show that you are listening to your customers and striving to provide them with an optimal experience at all times. Our team regularly provides quality assurance checks to maintain your mobile app and make adjustments when necessary. From technical glitches, to updates that reflect your growing business, we are prepared to manage your mobile app long after its initial development, and help you surpass competitors within your industry.