Get connected with your audience.
Every year, social media seems to get more and more chaotically busy for professional marketers all around the world. Regardless of your business model, it has become a strategic part of the marketing mix. If you manage any aspect of social media marketing for your brand or your clients, you know how hard it can be to keep up and stay current, tapped in, and relevant. If you're worried about how you're going to pull your social media marketing strategy together or balance the time and resources you actually do have to achieve your goals, you're not the only one.
The advent of social media has rocked us all, and there's no going back. No matter what business you're in, attaining profit and progress today is a profound exercise in social and therefore emotional communication. Make no mistake: if you engage your audience by understanding what they care about and what it is they truly want, they'll return the favour and promote your brand, casting it in a positive light by spreading social proof through their circles of friends, colleagues, and interest groups. And you may not even have to ask them to—at least not outright. Increasing your budget and other resources to help fulfill social media strategies should be at the top of your list.
46%
of users utilize social media platforms when making a purchasing decision.
60%
small and medium-sized businesses state that they have gained new customers by leveraging social media marketing.
70%
of businesses marketing to end users have acquired new customers via Facebook.
Social Media Integration
Easily share content through Twitter, Facebook, and hundreds of other Web 2.0 websites
Effortlessly create site accounts and logins with Facebook Open Graph
Quickly create bookmarks to your site through use of readily available social media tools
Leverage influential capabilities of social media by integrating Facebook on ecommerce websitesInfrastructure Analysis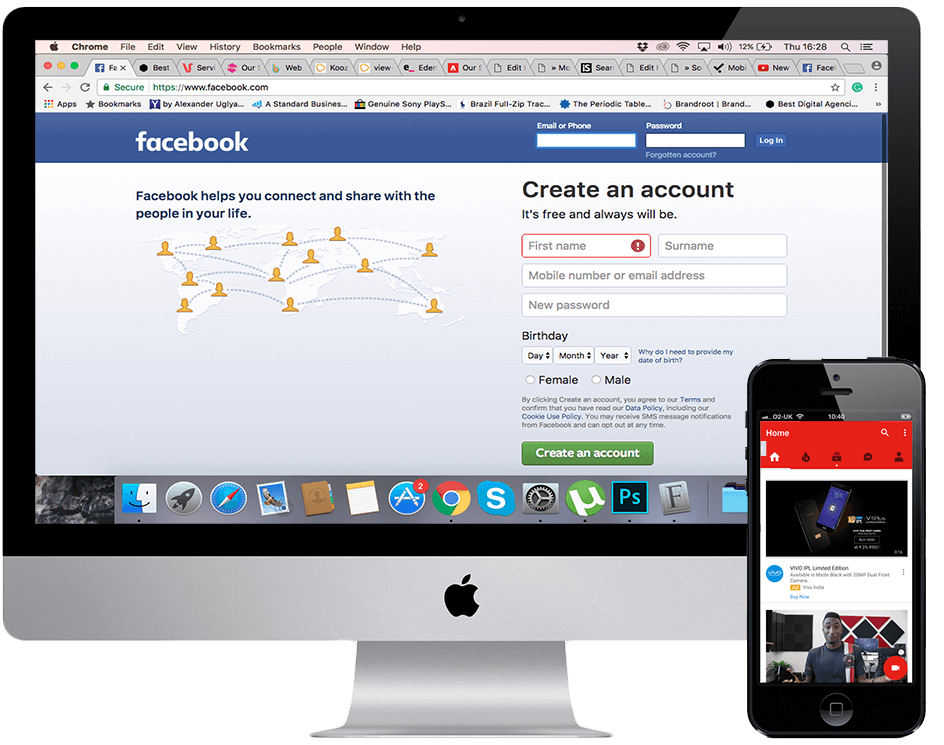 Our SMM Process
Our social media marketing process ensures that your business gets a social media marketing campaign specifically tailored to your business' goals.
Learn about the client's business, website, social presence, and competitors in order to provide clear documentation to be used throughout all other stages of the project.

---

Project Brief

Define client information & business goals along with all required information to create appropriate documentation to be used throughout other stages of the project

Audience Research

Use ad tools to identify audience sizes based on keywords, interests, and influencers

Competitive Analysis

Define social competitors, and the networks they're active on, based on industry keyword search and client interviews

Social Audit

Create baseline for current social performance based on analytics data

Create a comprehensive Social Media Marketing strategy and project plan that clearly outlines deliverables and measurable business goals for social media profiles and sharable content

---

Profile Strategy

Document actionable plan to develop or optimize profiles across networks

Engagement Strategy

Create rules for engaging with users in and out of the client's social community. Develop plan to reach out to influencers to leverage their networks for content distribution

Measurement Planning

Produce measurable short and long-term goals in order to properly evaluate campaign performance

Content Strategy

Create a content calendar that features content that will be posted based on each social media network and profile

Advertising Strategy (optional)

Develop an advertising plan and budget for appropriate networks. Make sure to define the object of each portion of the plan, whether that is community growth, community engagement, lead generation, conversions, or something else

Implement recommendations from the Profile Strategy & Content Strategy phases to hit campaign goals

---

Brief Content Implementation

Keep in line with content strategy and social media marketing best practices, distribute content to appropriate networks

Advertising Implementation

Implement advertising campaigns while closely following defined advertising strategy. If necessary, adjust the strategy to stay in line with client budget

Community Management

Following the engagement strategy, interact with users and influencers across networks

Provide regular reporting that includes analysis of campaign performance, KPIs, and goal tracking and adjust project plan based on results

---

Monthly Performance Report

Document current standing of goals, campaign metrics, tasks completed, and plan for the following month

Quarterly Review

Comprehensive overview of campaign and adjustments to the project plan based on the results achieved